In an extraordinary game in the French capital, Manchester City salvaged a 2-2 draw with Paris St Germain to ensure they will be the favourites to progress to the Champions League semi-finals when the two teams meet again on Tuesday.
Kevin De Bruyne had given City the lead after Zlatan Ibrahimovic saw his penalty saved by Joe Hart but the Swede soon equalised following a bizarre mistake by Fernando and when Adrien Rabiot gave PSG the lead, all looked lost.
However, Fernandinho's deflected equaliser puts Manuel Pellegrini's men in a strong position and has City fans dreaming of glory. It was the sort of topsy-turvy affair that felt appropriate in the context of the club's season and its history, writes Adam Bate…
City level after PSG thriller
Man City came from behind to draw 2-2 away to PSG
For the fans making themselves heard in the corner of the Parc des Princes, this was the Manchester City they know and love. In fact, with a performance that provided moments of both wonder and blunder, there were times when the club's biggest European tie in well over 40 years felt like an homage to the highs and lows that have become a City trademark.
Of course, the current owners have given the club's ascendancy to these heady heights an air of inevitability. Indeed, the only surprise is that City's regular presence so deep into the competition has taken this long. It is the club's fifth season in the Champions League and already their best effort yet. But it had begun to appear as though something fundamental must change for them to progress further.
Instead, the performance that has edged them towards the last four was typical of City. There were the flashes of brilliance and the moments of ecstasy, intertwined with a sloppiness rarely seen on such a stage. They managed to concede a penalty, earn a reprieve and still contrive to gift their hosts a goal in utterly bewildering circumstances.
If the game represented life as a City fan in microcosm, it also summed up their season too – albeit with rather more optimism to accompany it than a Premier League campaign that looks set to fall well short of expectations. It was all there. The attacking intent to rival the very best and the calamitous defending that could undermine it all in an instant.
Firstly, the positives. If there was any doubt whether City could trouble PSG on their own patch, it didn't take too long for Sergio Aguero to produce compelling evidence of his threat. The City striker wriggled beyond David Luiz and was pulled down inside 20 seconds – an incident that might well have resulted in the former Chelsea defender receiving a red card.
With Kevin De Bruyne providing ample support, as shown by his excellent opening goal, City clearly have pace and quality on the counter-attack too. The Belgian has been superb in his debut season for the club and it's worth noting that City already owe some silverware to his display off the bench in the Capital One Cup semi-final second leg against Everton.
Man City vs W Brom
April 9, 2016, 5:00pm
Live on
It's a performance that Pellegrini has not forgotten. "A lot of time, one player can change a game," said the City boss afterwards. "Kevin was very important to us before his injury and fortunately for us he has returned the same way." De Bruyne has now scored in both of his appearances since returning from injury – his first action since those Everton exertions in January.
The presence of such attacking options means that City will always have opportunities to cause problems even against high-class opposition. Judging by what we've witnessed from Bayern Munich, Barcelona and Real Madrid in recent weeks, there is little reason to believe anyone is immune to the qualities of Aguero, De Bruyne and the rest. Certainly not PSG.
But it's not just the hit and (more often) miss efforts of players such as Jesus Navas that makes it easy to be left wanting more. The curate's egg that is City – particularly on their travels – feels as far away from hatching as when Pellegrini arrived. He has tweaked this team without ever instilling the steely purpose needed to truly convince.
Nowhere is that more apparent than at the other end of the field, where the most expensive centre-back partnership in the history of English football continues to falter. Joe Hart praised his back-four for their efforts after the game but that reveals more about the low level of expectation for City's back line than it does about their solidity.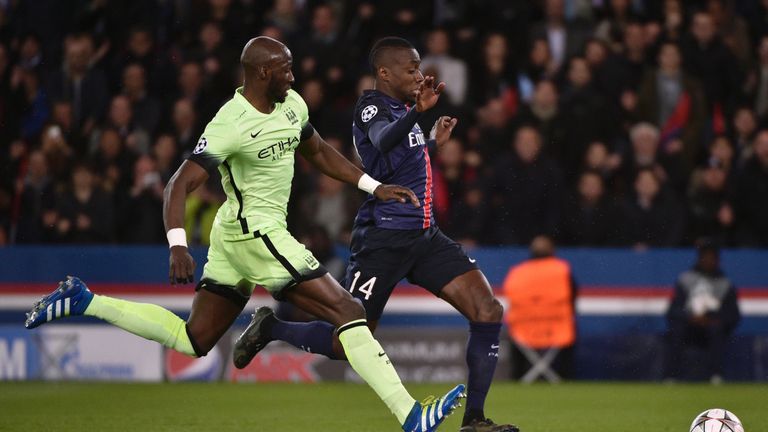 While Vincent Kompany remains a big miss, his deputies are not youngsters learning on the job and being unreasonably asked to fend for themselves. The two full-backs are each over 30 – one of whom, Bacary Sagna, stretched out the leg that David Luiz was able to cannily locate for the penalty – and those costly centre-backs continue to come with caveats.
As for the protection provided in front of them, Fernando will need to come up with something extraordinary if this does not prove to be his defining moment in a City shirt. The Portuguese midfielder's ability to find the net via Ibrahimovic's foot would have been an impressive effort in billiards. On the football pitch, it was simply woeful stuff.
"It was a mistake we cannot afford to make if we want to continue in the Champions League," said Pellegrini afterwards, which was a creditable effort at understatement even for a man skilled in the art form. It is difficult to imagine a level of the game at which this error would be considered acceptable. It certainly couldn't have felt any less foolish.
And while the incident was a one-off in so many ways, it was also indicative of the sloppiness that's left City fighting for a top-four finish instead of cantering towards the Premier League title. That they are in with a plausible shot of winning a Champions League they're far from assured of a place in next year highlights the curious position in which they are in.
Chelsea vs Man City
April 16, 2016, 5:00pm
Live on
Pellegrini's men are now favourites to progress to the last four, knowing that avoiding defeat at the Etihad Stadium on Tuesday should be enough for them to see off Laurent Blanc's side. If Wolfsburg can complete the job too on the same evening, it's not even inevitable that City will find themselves as underdogs for the subsequent semi-final.
There's work to do before such a scenario comes to fruition. But for the fans in the Parc des Princes on Wednesday evening, it's an exciting thought nonetheless. "We have a difficult night ahead in Manchester, but I am happy," said Pellegrini. Happy in the knowledge that City can seemingly – just about – continue to do it their way and still come out on top.
News : www.skysports.com